Get Started
This guide is currently closed
This Quick Start Guide is intented to give all our users the chance to register quickly to use the facilities. Below we provide a brief overview of all our services, followed by a form to complete to submit your details. Once your registration has been processed, we will email you full instructions.
Please click on the expand (+) button to learn about the relevant sections.
Our principles
Our approach to the management of facilities in multi-unit developments prioritises community, communication and clarity. Penalties only used a final measure. Are principles are as follows:
All users of the facilities must be registered.
The rules for using the facilities are clearly defined and explained to the users.
Communication and continuing instruction are key.
Users are held responsible for their behaviour.
There are clear procedures for penalties and appeals.
A quick guide to bin stores
Using the bin store
In order to keep the bin store clean, clear and safe to use:
We provide guidelines to all users so that the rules for using the bin store are known before entering the bin store.
Users gain access to the bin store either via their phone or a unique PIN. We therefore know who has opened the door. This person is held responsible for what happens in the bin store until the door is closed again.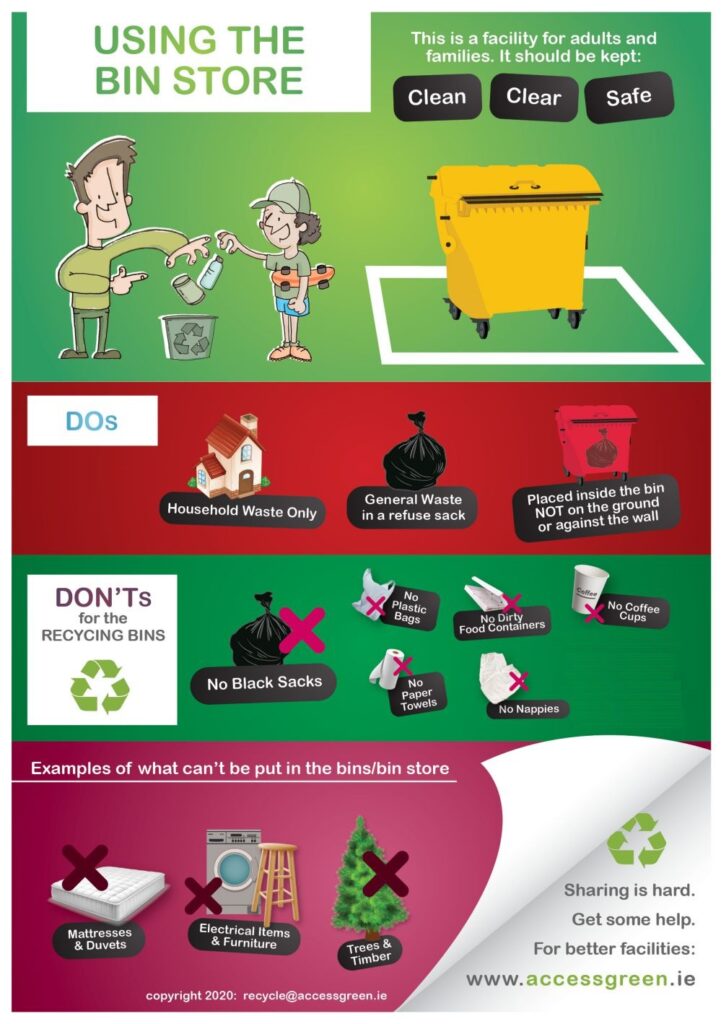 We ask everyone to sort their waste before going to the bin store and place their bags in the correct bin. No bulky or non-domestic waste can go in the bin store. Do not leave anything on the floor or against the wall. Close the door after use.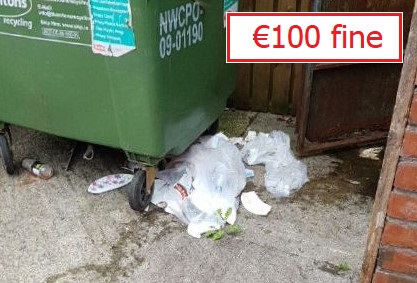 You can read more here: https://www.accessgreen.ie/courses/using-the-bin-store/
A quick guide to parking permits
Parking management
In some developments, ACCESSGREEN manages parking permits. Please check with your management company as registering for parking here may not make your vehicle safe from enforcement measures. This is a new approach to the management of parking in multi-unit developments that prioritises community, communication and clarity. Clamping and enforcement only used a final measure.
All vehicles parking in the development must have a valid permit. The permits are for residents/owners/staff/guests of a property in the development only. All permits are issued and revoked at the discretion of the Owners' Management Company and its agents. 
Apartment residents/Owners can register for a permit for their vehicle to park in the development by using their ACCESSGREEN account. Residents and owners must register their own vehicles.
Vehicles without a permit may be reported to the enforcement company. Clamping is by call out only. Call outs can only be requested by the Management Company or authorised parties.
Account holders can check whether any vehicle has a valid parking permit using their account. No other information is provided to account holders about the vehicle in question. Residents can report vehicles without a valid permit to ACCESSGREEN.
Vehicles must be parked in a manner compliant with the Terms & Conditions of parking in the development. Residents may report issues of non-compliance to ACCESSGREEN who will notify the permit holder for the vehicle in question and ask them to comply. Following the notification, continued non-compliance will result in the permit for the vehicle being revoked.
A quick guide to automated entrance gates
In some developments, ACCCESSGREEN register users for the vehicular entrance gates. If your development has automatic gates, we will register you when you have completed this Quick Start Guide.
Please note: ACCESSGREEN are not responsible for the gate opener itself. If the gate is stuck, residents should inform the management company.
"In brief, we are an Irish Company that helps communities with issues relating to shared spaces. We operate under Irish Law as a data processor for these communities. This means we provide services but we do not own the data. We can only use the data as agreed with the community, the data controller, to provide our stated services: access control, monitoring and education in relation to the common areas and shared facilities."
We provide a full GDPR statement here: https://www.accessgreen.ie/gdpr-privacy-notice/
Please fill in your details below so you can use and receive information about the shared faculties.
About the Instructors